Charming hotel in Corrèze &
delicious restaurant in Beaulieu-sur-Dordogne
Located in the heart of Corrèze, just 22 km from Padirac and 37 km from Rocamadour, Les Flots Bleus Hotel in Beaulieu-sur-Dordogne guarantees a truly relaxing stay beside the Dordogne River. Offering a warm welcome, tastefully decorated rooms, creative cuisine featuring regional produce and a terrace on the banks of the Dordogne, it has everything you need for an enjoyable break away!
Les Flots Bleus Hotel with views over Dordogne
In a beautiful, calm setting, Corinne and Patrice will welcome you for a stay with your partner, family or friends on the edge of the Périgord, Quercy and Limousin regions of France.

Enjoying an ideal location beside the Dordogne River opposite the 12th-century Chapelle des Pénitents, Les Flots Bleus Hotel provides a peaceful setting for a re-energising break away. Be soothed by the babbling « river of hope », as it has been dubbed by novelists and filmmakers.

The medieval town of Beaulieu-sur-Dordogne is just a short 11-minute walk away. Discover a host of activities nearby for relaxing or exploring some truly exceptional landscapes and places: swimming pool, canoe rental, tennis courts, bike rental, etc.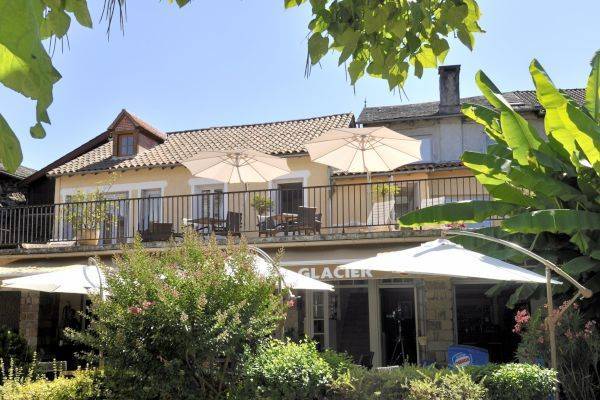 Stylishly decorated rooms
In a friendly atmosphere, Les Flots Bleus Hotel invites you to stay in one of its 7 comfortable and spacious rooms.

They are bright and airy, and tastefully decorated with shabby-chic furniture with a vintage, patinated finish. The muted, pastel shades give the rooms a romantic, feminine feel.

Each has an en-suite bathroom with shower, flat-screen television and free WiFi access. Most of the rooms boast stunning views of the Dordogne! Free parking is also available throughout your stay.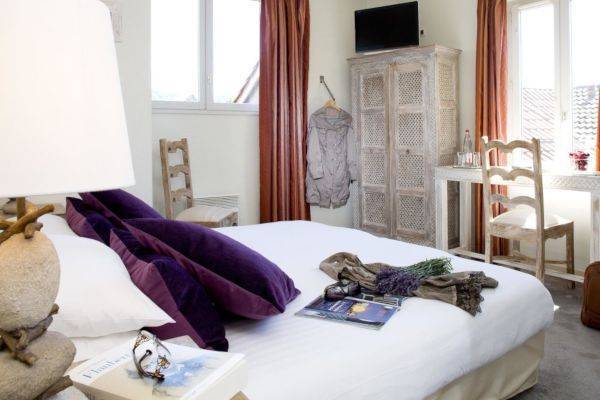 Restaurant with panoramic terrace
Les Flots Bleus Restaurant offers fresh and modern local cuisine imbued with love, generosity, tradition and a zest for life!

Listed in the Michelin Guide and boasting the Maître Restaurateur label, the restaurant makes every effort to incorporate regional produce and local specialities. The chef invites you to discover the magnificent produce that has been farmed and prepared with passion, including duck, foie gras, cep mushrooms, fish and strawberries, all paired with a wide range of regional wines.

On sunny days, you can enjoy the panoramic terrace overlooking the village church in Beaulieu-sur-Dordogne.